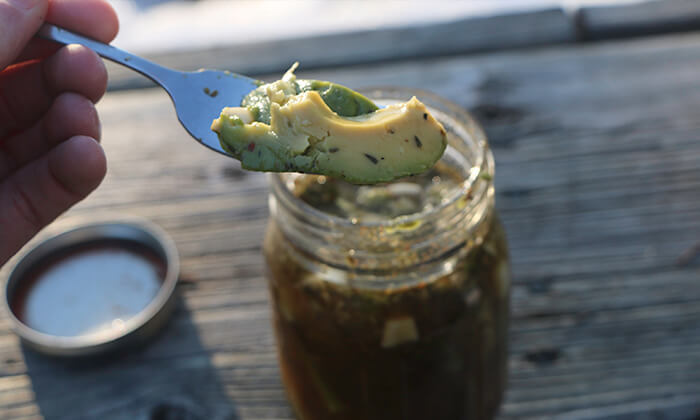 Ever have one of those moments when two of your favorite things come together and unexpectedly make your new favorite thing? Yep – avocado pickles. Tangy, a little spicy, super easy, and ready in just a few hours.
Ingredients:
Serves Approximately 3-4 people
3/4 Cup White Vinegar
1/2 Cup Water
1 tsp. Sugar
1/2 tsp. Salt
1 Ripe Avocado, sliced
4 Cloves Garlic, chopped
2 tsp. Crushed Red Pepper Flakes
1 tsp. Oregano
1/2 tsp. Dill
1/2 tsp. Thyme
5 Sprigs Asparagus (optional)
Directions:
Add vinegar, water, salt, and sugar to a small saucepan and bring to a boil.
Remove from heat and let cool. Add a few ice cubes if you're impatient like us.
While the pickling mixture is cooling, chop up garlic in large chunks.
Put the garlic into a mason jar or other container with red pepper flakes, oregano, dill, and thyme.
Add sliced avocado into the jar. We like to add asparagus in as well!
Pour the pickling mix into the jar and seal.
Gently rotate the jar upside down and back up to mix around the garlic chunks and other spices.
Put in the refrigerator for at least 3 hours. The longer you let the mixture sit, the more flavor it will absorb. Setting overnight is preferred.
Enjoy it as a side to a lunch like our roasted asparagus and tomato sandwich, or as a midnight snack.