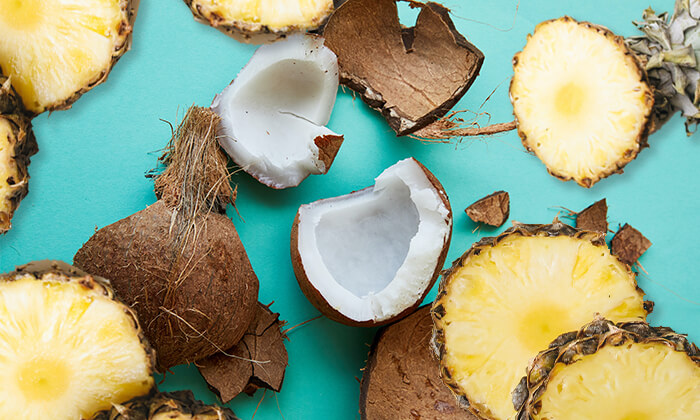 Send your taste buds on a tropical vegan vacation with these tasty popsicles with fresh pineapple and coconut that are so easy to make.

We recommend using a reusable popsicle mold to reduce waste created through popsicle sticks – or worse – plastic wrappers and disposable single-use plastic sticks.

These really hit the spot on a hot day or even just relaxing. With simple ingredients, it tastes like you're eating dessert, but really getting a serving of fruit in!
Helpful Equipment
???? Servings: 6 Popsicles
???? Prep Time: 10 Minutes
???? Cook Time: 6 Hours
⏲ Total Time: 6 Hours 15 Minutes
Ingredients
½ of a fresh pineapple, chunked (or about a can and a half)
1 lime, juiced (about 2 Tbsp.)
1 cup coconut milk, unsweetened
1 ½ Tbsp. maple syrup

Directions
Blend
Add pineapple and lime juice in a blender, puree until smooth.
Separately, mix the coconut milk and maple syrup in a large measuring glass.
Pour & Prep
Alternate slowly pouring in the two mixtures to create a striped pattern in each popsicle mold. You can make each layer as thick or thin as you'd like. Make sure you leave enough room to insert the sticks without them overflowing.
Gently shake or tap the popsicle molds once they're full to ensure the mixtures are fully settled.
Insert the sticks and cover of the mold.
Freeze
Place your popsicles in the freezer.
Leave overnight or for at least 6 hours.
Enjoy! If the popsicles don't come out of the mold easily, try running lukewarm water over the outside of them for a few seconds to loosen them up.