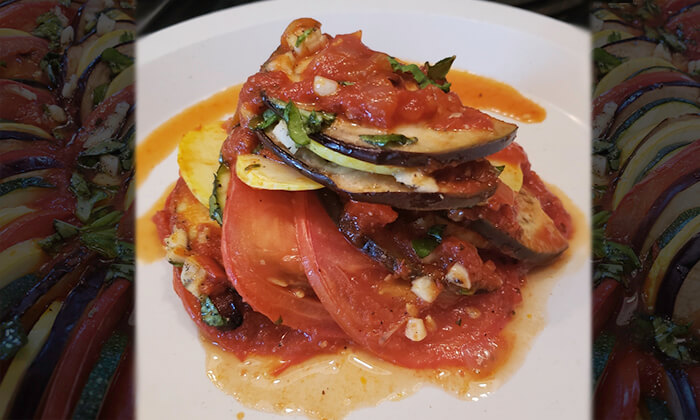 Enjoy the lovely layered French dish – ratatouille. With simple ingredients and an oven, you'll have a tasty dinner with generous portions for everyone without spending a fortune.
This is also a great meal to have if you're trying to stick to low carb foods! Without starchy vegetables like potatoes or pasta like some other recipes call for, you'll be able to enjoy this low carb ratatouille for dinner, and then again as leftovers. (It's awesome the next day)
Ingredients:
Serves Approximately 6-8 people
1 Medium/Large Eggplant
1 Zucchini
1 Yellow Summer Squash
2 Large Tomatoes
1 Yellow Bell Pepper
2 Cans Tomato Puree (6 oz.)
1 Package (8oz.) Baby Mini Portobello Mushrooms, diced
3 Cloves Garlic, chopped
1/4 Cup Fresh Basil, chopped (loosely packed)
2 Tbsp. Fresh Thyme, chopped
1/2 Small White Onion, finely chopped
2 Tbsp. Black Pepper
2 tsp. Salt
2 tsp. Sugar
2 tsp. Chili Oil
Directions:
Preheat oven to 375˚F
Prepare the Sauce:
In a small saucepan, sautée mushrooms, onions, yellow pepper, and garlic over low heat until mushrooms start to cook down and onions become translucent (but not soft). Be careful not to overcook or have the flame too high or your garlic will start to take on a nutty flavor.
In a separate saucepan: add tomato puree, half of your basil, 1 Tbsp. pepper, sugar, and chili oil and stir.
Add your sauté into the tomato puree and stir.
Pour this mixture into a glass baking pan. Be sure that you use a pan large enough that it is not too close to being full. You still have to add in all of your veggies!
Now let's get it ready for the oven:
Slice eggplant, zucchini, squash, and tomatoes, in round slices, about 1/4 inch or less.
Stack the veggie slices in layers, alternating as you go and set them standing up into the sauce.
In a small bowl: mix olive oil, the remaining black pepper, salt, and the remaining basil and thyme.
Distribute the olive oil and herb mix evenly on top of the layered veggies.
Bake the Ratatouille:
Cover with aluminum foil and bake for 45 minutes.
Uncover, and bake for another 15-20 minutes – until the vegetables are soft. It may be helpful to push down some of the veggies that are standing straight up when you uncover it.
Remove from the oven, garnish with a bit more fresh basil or parsley, and enjoy!