Fried Tofu Veggie Vegan Stir Fry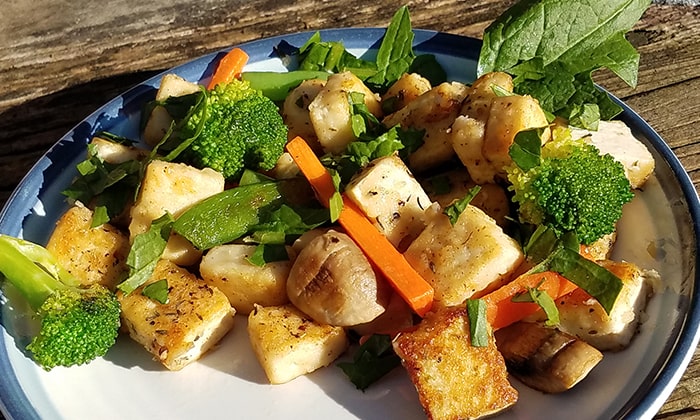 Want an easy vegan dinner that doesn't seem like it was "easy"? Give this delicious vegan stir fry a try! Fried tofu and all your favorite veggies. Simple and tasty.
Ingredients:
Feeds approximately 3-5 people
1 package (14 oz.) Extra Firm Tofu
5 Medium-size White Mushrooms
A handful of Sugar Snap Pea Pods
1 Large Carrot
4 dandelion green leaves
Thyme
Black Pepper
Ground Cayenne Pepper
Garlic Salt
Flour
About 3 Tbsp. Olive Oil
Directions:
Cube tofu in chunks no larger than about a half inch.
Pat tofu cubes with a towel to remove excess water.
Dust tofu in a light coating of flour.
In a large saucepan or wok, add olive oil and put on medium-high heat. Use more or less oil to your liking. More oil will result in a more deep-fried style tofu.
Once oil is heated, add in tofu in a single layer, so all pieces of tofu are touching the pan on one side.
Spice tofu with thyme, black pepper, cayenne pepper, and garlic salt to taste.
While the tofu is frying, time to cut up your veggies! Feel free to add in some of your other favorites!
Fry tofu for approximately 5-7 minutes, until golden brown. Then flip and sear the other side.
After your tofu has been fried on both sides, add in your snap peas, carrots, and mushrooms and mix it all up!
(Note:if you don't use extra firm tofu, you may run into your tofu falling apart when it is mixed in. If that happens, just enjoy it as a tofu-veg scramble instead!)
Lower heat and cook uncovered until your vegetables are soft, but not mushy.
Top it off with chopped dandelion greens and enjoy!