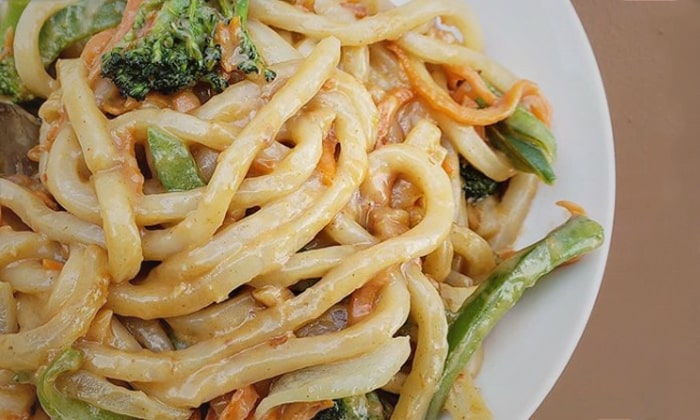 Sweet, tangy, and a little bit spicy – This Thai dish with a Veggums twist packs a ton of flavor and they blend so well. Mix up these Thai peanut lime noodles with your favorite steamed veggies.
Ingredients:
Serves Approximately 5 people
12 oz. Package of Japanese Thick Udon Noodles
1 Crown Broccoli
1 Green Bell Pepper
1 Large Carrot
1 Medium White Onion
Fresh Cilantro
Peanut Sauce
1/2 Cup Creamy Peanut Butter
3 Tbsp. Soy Sauce
2 Tbsp. Coconut Oil
2 Tbsp. Sriracha Hot Sauce
1 Juiced Lime (with pulp)
1 1/2 Tbsp. Rice Vinegar
2 tsp. Fresh Ginger
1 1/2 Tbsp. Brown Sugar
2 tsp. Sesame Oil
2 Cloves Garlic, minced
3 Tbsp. Crushed Peanuts
Directions:
Bring water in a medium pot to a boil.
Add in noodles and cook until al dente as directed. Be careful not to overcook the noodles or you may end up with a mushy texture when the sauce is added.
While the noodles are cooking, we'll make the peanut sauce. In a large bowl, add peanut butter, soy sauce, and coconut oil – stir.
Mix in all remaining ingredients until you are left with a smooth sauce.
You may thin the sauce with warm water to your liking if it turns out too thick.
Cut up broccoli and steam for approximately 5 minutes.
Add sliced green pepper in with broccoli and steam for an additional 3 minutes.
Strain the water from your noodles and rinse lightly with cool water.
Slice onions and carrots and sautée until the onions start to become translucent (using a peeler can provide nice thin carrot slices).
Add in peanut sauce and veggies to the noodles over medium heat.
Stir together and heat for 5-7 minutes.
Top with crushed peanuts, garnish with cilantro, and enjoy!