Spicy Broccoli Tacos with Red Onion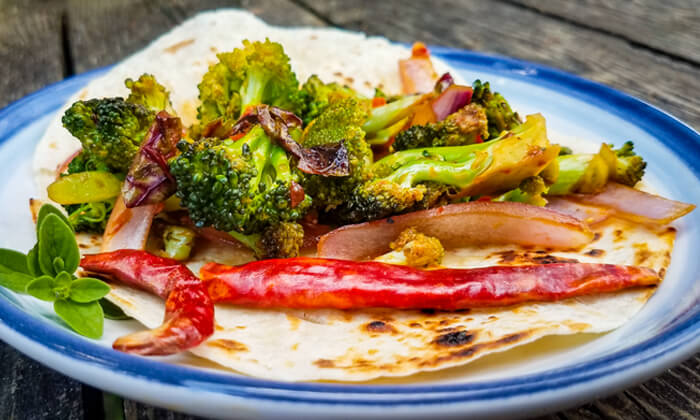 With just a few ingredients and some tortillas, you'll have delicious and filling veggie tacos within minutes. These tacos are perfect for dinner, lunch, or even just a quick snack. Adjust the ingredients to make it mild, or turn up the heat!
Ingredients:
Serves approximately 3-4 people
1 Crown Broccoli
1 Large Red Onion
3 Tbsp. Pepper Sa-Té Sauce or Chili Bean Paste (Buy some now!)
2 Sprigs Fresh Oregano
2 Tbsp. Olive Oil
½ Lime, squeezed
1 Tbsp. Garlic Salt
2 tsp. Black Pepper
Corn or Flour Tortillas
Directions:
Cut broccoli into small florets and slice red onion.
In a large saucepan, heat olive oil.
Add in broccoli and onion, sauté on medium-high heat for 5 minutes.
Stir in the pepper sa-té sauce, lime juice, garlic salt, pepper, and oregano.
Continue to sauté until the broccoli softens and starts to brown.
Fill up your tortillas and dig in!