Grilled Asparagus and Tomato Sandwich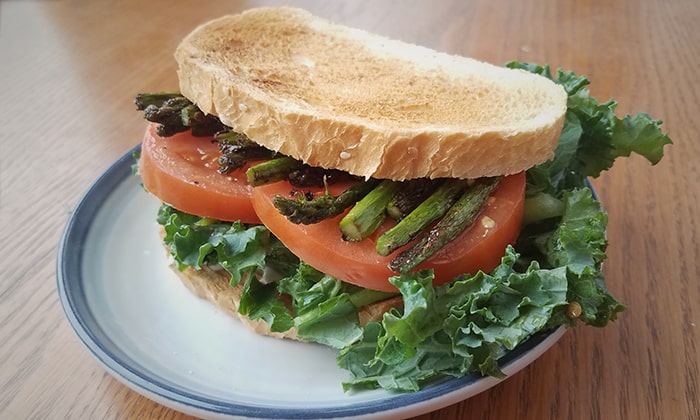 You just can't beat perfectly grilled asparagus. Paired with the toasted flavor of Italian bread, juicy ripe tomatoes, and crunchy kale – this mouth watering sandwich makes the perfect lunchtime meal.
Ingredients:
Serves 1 person
2 Slices Italian Bread
1 Medium Tomato, sliced
10 Sprigs of Asparagus
2 Leaves Kale
Vegan Mayonnaise
1 Tbsp. Olive Oil
Black Pepper
Crushed Red Pepper Flakes
Garlic Salt
Directions:
Trim the ends of asparagus and cut each sprig into 3 or 4 sections, about an inch in length.
Char on the grill briefly and then place in aluminum foil boat with olive oil, black pepper, red pepper, and garlic salt. You can also pan fry the asparagus as well. You may not get the full grilled taste, but it's still delicious!
Toast bread and spread with vegan mayo.
Stack on your tomato, asparagus, and kale.
Simple as that! Enjoy.