Veggie Packed Spinach Wraps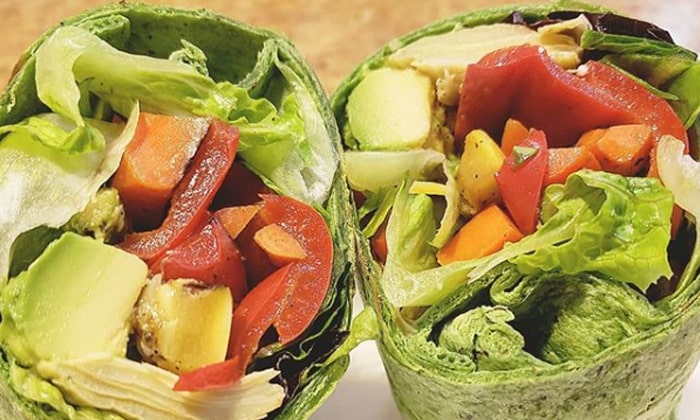 Go green for lunch with these tasty spinach wraps! Loaded with both fresh and marinated vegetables, you'll get the perfect balance of crunchy and soft. And it's definitely not lacking in any flavor or nutrients.
Ingredients:
Serves 1-2 people
1 Spinach Tortilla Wrap
2 Leaves Romaine Lettuce
1 Medium Tomato, sliced
1 Avocado, sliced
1 Medium Carrot, sliced long ways
1/4 Cup Roasted Red Pepper
1/2 Can Artichoke Hearts, quartered
2 Tbsp. Mild Salsa
Directions:
Wash and slice lettuce, tomato, and avocado.
Place lettuce leaves down the center of a spinach wrap, then add everything else on top.
Fold up your wrap and you're good to go. It is best to fold up the bottom first, to avoid losing all of your salsa or avocado out of the bottom!
Bonus tip – If it's a little too crunchy for you, try to cook the carrot slices down a bit in a little soy sauce and sugar. It'll take a way the crunch and add a nice salty-sweet flavor!