Air Fryer Crispy Green Tomatoes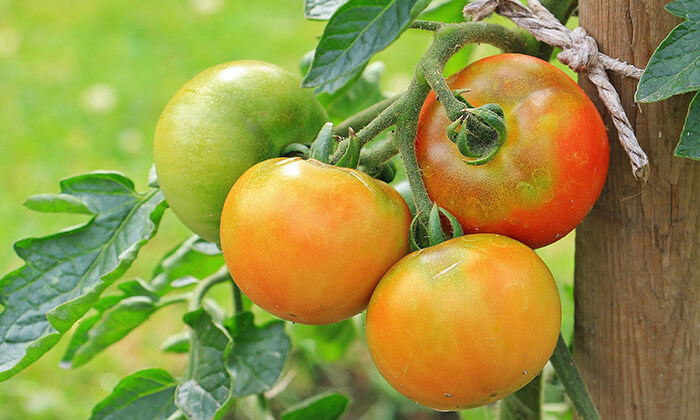 Crispy, crunchy, and perfect to pair with so many dishes – these fried green tomatoes are so easy and quick.

If you don't have green tomatoes, firmer tomatoes that are more ripe can work as well.

This recipe is oil-free and features a subtle blend of spices that really bring this dish to life.

They are great served as a side dish, appetizer, light lunch, or a snack and can go well with many different dipping sauces.
If you don't have an air fryer, you can also bake these in the oven or pan fry with a little olive oil (for a non-oil-free version). However, we love a good air fryer so we'd recommend investing in one!
Helpful Equipment
???? Servings: 16 Slices
???? Prep Time: 20 Minutes
???? Cook Time: 35 Minutes
⏲ Total Time: 55 Minutes
Ingredients
3 large green tomatoes
1 cup panko breadcrumbs
½ tsp. paprika
½ tsp. garlic powder
½ tsp. thyme
¼ tsp. onion powder
¼ tsp. sea salt
¼ tsp. black pepper
1 dash of ground cayenne pepper
6 Tbsp. all-purpose flour
½ cup unsweetened oat milk (or any plant-based milk)
Directions
Set the air fryer to 375°F and preheat.
Remove the tomato cores.
Cut each tomato into slices, about ½ inch thick.
Put the flour in a wide bowl.
Pour the non-dairy milk in another bowl.
In another bowl mix panko, paprika, garlic powder, thyme, onion
powder, sea salt, black pepper, and cayenne pepper and line them up to dip and prep the tomatoes.
Dip each tomato slice in the three mixtures in this order:

Flour
Mixture with panko and spices

Place the coated slices on the air fryer trays. Depending on the size of your air fryer you may need to do these in batches.
Air fry until the slices are crisp and begin to brown (approximately 6-8 minutes)
Enjoy!