Citrus Marinated Watermelon Gazpacho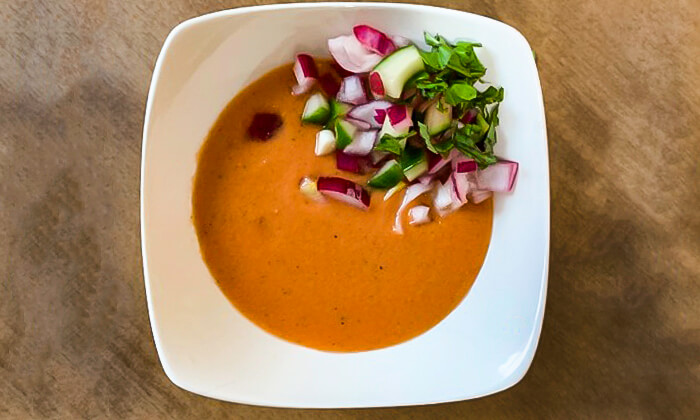 Gazpacho is a classic Spanish dish. This cold soup is so refreshing on hot summer days, but can easily be made year-round. With chunks of marinated watermelon, cucumber, and onion, this gazpacho recipe is sure to hit the spot!
Ingredients:
Serves approximately 4 people
1 Large Tomato, pureed
2 Cups Watermelon, seeded and cubed
3/4 Cup Red Wine Vinegar
1/4 Red Onion, peeled and minced (dice a small amount to use as garnish)
1/2 Cucumber, seeded and minced (peel and dice 1/4 of the same cucumber to use as garnish)
4 Leaves of Basil, minced
1/4 Cup Olive Oil
1 Orange, juiced
1 Lime, juiced
1 tsp. Sugar
1 tsp. Ground Cayenne Pepper
Directions:
Prepare Watermelon:
In a large bowl, mix orange juice, lime juice, and a pinch of sugar.
Place cubed watermelon in bowl with juice mixture.
Chill in the fridge for 25 minutes (if watermelon is not fully covered then flip it over half way).
Cucumber & Red Onion Salsa:
In a small bowl add diced red onion and cucumber.
Pour enough red wine vinegar to cover half.
Add a pinch of salt, mix, and let chill for 10 minutes (this is classified as a quick pickle).
Drain after chilling.
Finish the Soup:
In a blender, puree the tomato and half of the watermelon.
Add 1 teaspoon red wine vinegar and 1 teaspoon olive oil blend to emulsify.
Add onion, cucumber, salt and pepper to taste and puree.
Serve in chilled bowls garnished with citrus marinated watermelon, red onion and cucumber salsa, and minced basil.
Top with a dash of cayenne pepper.