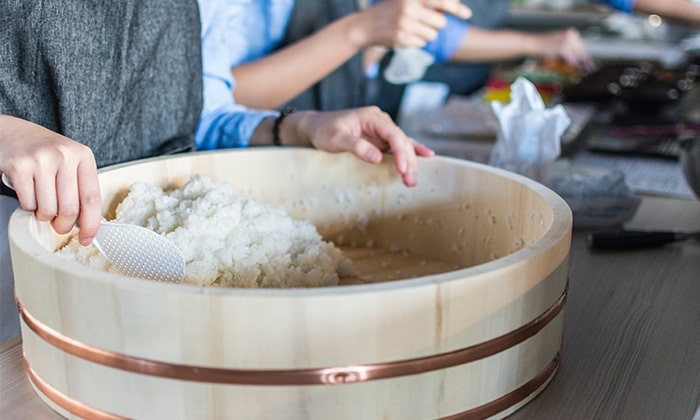 Making sushi can be so much fun. It's a great idea for sushi lovers at parties or just for yourself! It could also make a great first date idea. Arguably one of the hardest parts of sushi to perfect is the rice. Use our simple recipe for perfect sushi rice that'll give you perfect sushi every time.
Ingredients
2

Cups

Japanese Short-grain Rice

(sushi rice)

2 ½

Cups

Water

1⁄3

Cup

Seasoned Rice Vinegar

¼

Cup

Sugar

1

Tbsp.

Salt
Instructions
Rinse the rice – this part is extremely important. Run the rice under cool water while stirring and drain through a strainer. Repeat this at least 4 times, or until the water is no longer cloudy. This removes excess starch that will impact the taste and texture of your rice.

Cook the rice – you can either use a rice cooker according to the weight/volume instructions or stove top. For stove top cooking, add rice and water in a medium saucepan and bring to a boil on high heat. Cover and cook the rice for 8 minutes. Reduce to low/medium heat and cook for an additional 12 minutes. Then remove from heat and let sit for 10 minutes, remaining covered.

Sushi vinegar – While your rice is cooking, combine rice vinegar, sugar, and salt in a small saucepan over low heat. Stir gently until dissolved.

Put cooked rice into a large bowl and add sushi vinegar mixture. Be sure to distribute evenly and not add too much in one spot.

Mix in sushi vinegar evenly with a rice spatula, being sure to make slicing motions and folding over to avoid mushing the rice grains.

Cover with a damp towel and let cool.

Start making your sushi rolls, nigiri, or chirashi bowls!
Nutrition
Calories:
212.1
kcal
Carbohydrates:
26.3
g
Protein:
1.5
g
Fat:
0.1
g
Saturated Fat:
0.03
g
Polyunsaturated Fat:
0.03
g
Monounsaturated Fat:
0.04
g
Sodium:
970.8
mg
Potassium:
27.5
mg
Sugar:
8.5
g
Calcium:
37.4
mg
Iron:
1.1
mg