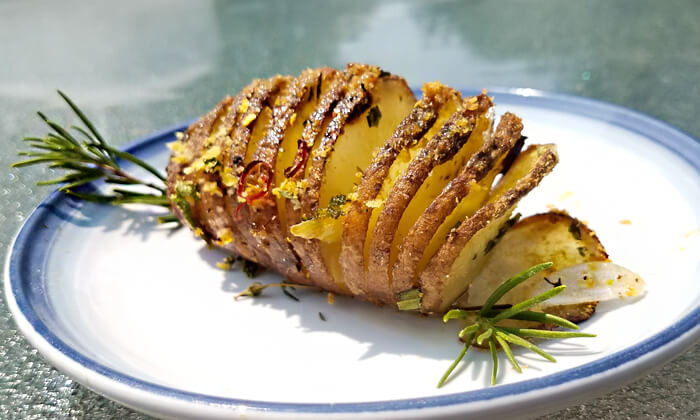 The underrated potato – hasselback. For some reason hasselback potatoes seem uncommon compared to other potato sides. However, they're actually really easy to make and they're so good! The slices make the potato so convenient to eat and it allows the herbs and spices to really sink into every bite!
Take this easy vegan hasselback potato recipe and experiment with different spices and herbs. Don't forget to let us know what you think!
How to Slice Hasselback Potatoes
Slicing potatoes hasselback-style can be kind of tricky. You want your potatoes in thin slices, about ⅛ to ¼ inch thick, so that only the bottom half inch or so is connected. Don't worry if you slice all the way through – they'll still fit in the pan and cook just fine.
If you want to make hasselback potatoes a regular side dish, consider investing in a hasselback potato cutting board.
These things make perfectly slicing potatoes a breeze and keeps the bottoms connected.
Ingredients:
Serves approximately 4 people
4 Large Potatoes
2 Cloves Elephant Garlic (you can use regular garlic too which is stronger, but the larger elephant garlic allows for nice long slices that fit well into the potatoes)
1/4 Cup Nutritional Yeast
3 Tbsp. Bread Crumbs
3 Tbsp. Olive Oil
1 Tbsp. Fresh Thyme leaves (about 4-5 sprigs)
2 Tbsp. Fresh Chives, chopped
2 Tbsp. Rosemary leaves, whole (about 2 large sprigs)
2 tsp. Sea Salt
2 tsp. Black Pepper
2 Dried Red Chiles, chopped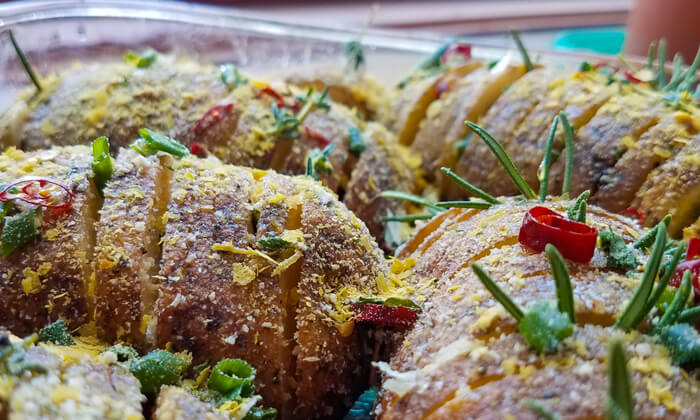 Directions:
Preheat the oven to 425°
Slice potatoes (see above for how to slice hasselback-style) and place them in a cake pan or any oven-safe container with walls.
Brush olive oil on all of the potatoes, coating the inside of each slice as much as possible. Be sure to save a little bit to drizzle on later.
Thinly slice the elephant garlic and insert a piece into every few slots of the potatoes.
Add the thyme, chives, rosemary, salt, pepper, and chiles on top as well as into the slots.
Sprinkle bread crumbs and nutritional yeast over the potatoes.
Drizzle any remaining olive oil evenly over the dish.
Bake for 40-50 minutes
The more you work your garlic, spices, and herbs into the potatoes, rather than just on top, the better. This will help prevent them from burning as well as infuse the flavors throughout.