Homemade Vegan Cinnamon Applesauce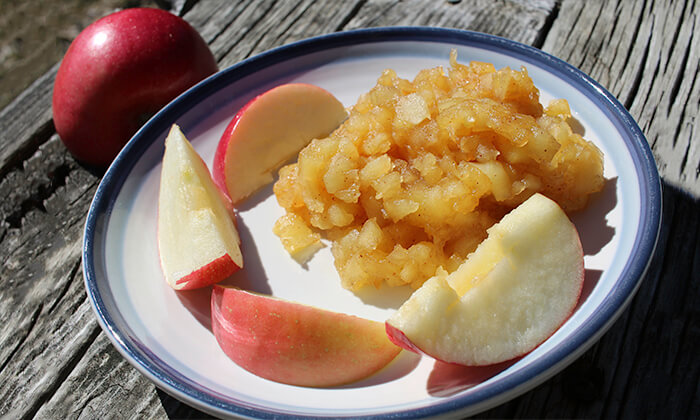 Do you make your own applesauce? If not, here's your start. Homemade applesauce is so easy and takes a million times better than anything store bought. And the best part – make it however you want. More chunky? Extra cinnamon? Yes please!
???? Servings: Approximately 2-3 People
???? Prep Time: 15 minutes
???? Cook Time: 15 minutes
⏲ Total Time: 30 Minutes
Ingredients:
4 Apples (we like gala or honeycrisp)
1/2 Cup Water
1/4 Cup Raw Sugar (or regular white sugar)
1 Tbsp. Lemon Juice
2 tsp. Cinnamon
Directions:
Cut apples into small chunks and add them into a pot over medium heat.
Add in water, sugar, lemon juice, and cinnamon – cover.
Allow to cook down for approximately 10-12 minutes, stirring occasionally.
Once the apples have become soft, lower the heat and begin to mash them. You can do this to your liking. We prefer a bit more chunky applesauce, but if you want very smooth applesauce, just keep mashing!
And that's it! Serve hot or cold and enjoy.
Looking for sugar-free or unsweetened applesauce? No problem. Just leave out some or all of the sugar. Depending on which apples you use, they can often be sweet enough as is