Vegan Cream of Mushroom Soup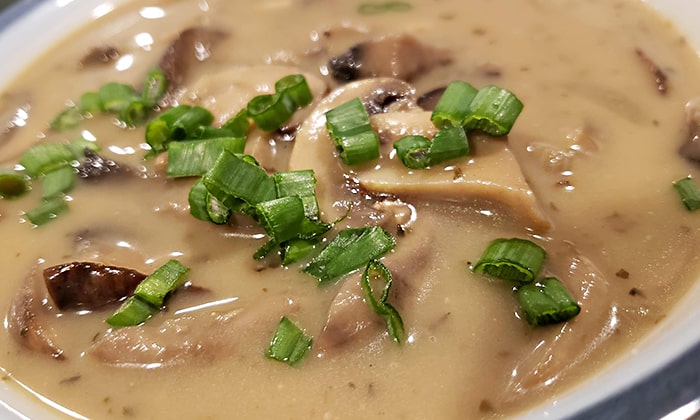 Who says vegans can't have cream of mushroom soup? This soup is a mushroom lover's delight. Delicious and hearty, without the dairy.
Ingredients:
Serves approximately 5-7 people
2 Packages (8oz. each) White Button Mushrooms
1 Package (8oz.) Baby Mini Portobello Mushrooms
2 Large Portobello Mushroom Caps
2 Cloves Garlic
1 Large Onion
1 Tbsp. Fresh Oregano
1 Tbsp. Fresh Basil
1 tsp. Seasoned Salt
1 Can (14oz.) Coconut Milk
3/4 Cup Water
1/4 Cup All Purpose Flour
Cayenne Pepper to taste
Black Pepper to taste
Olive Oil
Directions:
Chop garlic, onion, oregano, and basil
Add into a large saucepan with a small amount of olive oil, cayenne and black pepper, and seasoned salt.
Saute lightly until onions become translucent, but not soft.
Slice mushrooms and add to the pot (make slices as large as you prefer, but know that they cook down a lot).
Set on medium heat for approximately 15 minutes until mushrooms are soft. Larger mushroom slices will require more time. As the mushrooms cook down, they will add water to the soup.
Add in coconut milk and water, stir.
Cook uncovered on medium heat for an additional 5-7 minutes.
Turn soup down to low heat.
Make a roux with olive oil and flour (just mix them together over low heat). Approximately 3:1 ratio flour to oil. You should end up with a consistency slightly thinner than cake frosting. This will allow you to thicken your soup without flour chunks.
Slowly add in the roux little bits at a time and mix in with a whisk until your soup is thickened to your liking. (Keep in mind that the soup will become thicker as it cools as well).
Garnish with fresh basil or parsley and enjoy!