Chamomile Mint Tea (With Fresh Flowers)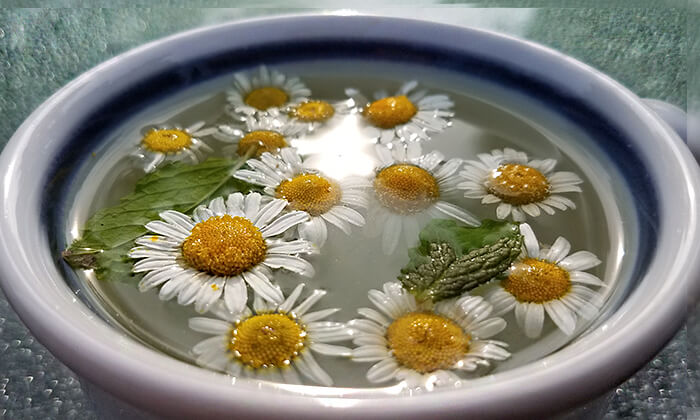 Two of the most relaxing things in life: gardening and a nice cup of tea. So when you can put them both together, nothing could bring you down.
Picking chamomile flowers and mint straight from the garden will give you a tea that you simply can't match with anything store-bought and dried.
Health Benefits of Chamomile Tea
Aside from tasting great, chamomile is well known for its calming properties, as well as its ability to boost your immune system and aid in digestion. These things can do wonders for one's mental health. Even just the act of drinking a cup of tea – taking a break from the stresses of life and relaxing.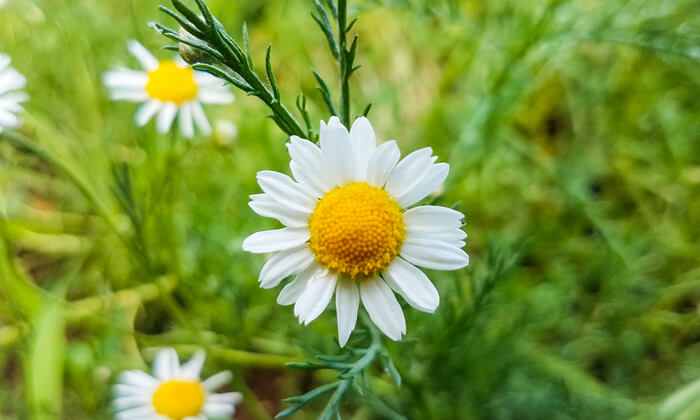 According to Medical News Today, chamomile can also have some serious benefits to your physical health if you make it part of your regular diet. Some of these benefits include:
Cancer Treatment and Prevention
Reducing Menstrual Pain
Treating Diabetes
Slowing or Preventing Osteoporosis
Reducing Inflammation
Homemade Chamomile & Mint Tea Recipe
Ingredients
3

tbsp.

Chamomile Flowers

(about 12-15 flowers) 

3

Leaves

Mint

1 1/2

Cup

Water

(just cooled from boiling)
Instructions
Boil water in a tea kettle or pot.

In a teacup, add fresh chamomile flowers and mint leaves to hot water.

Allow to steep for 4 minutes, or longer for a slightly stronger flavor.

Remove the flowers and leaves.

Add sweetener of your choice (optional)
Notes & Tips
Using fresh flowers in chamomile tea does carry a bit more of a bitter taste than the dried teas you may be used to. So give it a shot unsweetened first, and then add a little if you would like.
Nutrition
Serving:
12
oz
Calories:
0.1
kcal
Carbohydrates:
0.48
g
Fat:
0.01
g
Polyunsaturated Fat:
0.01
g
Sodium:
14.3
mg
Potassium:
21.93
mg
Fiber:
0.01
g
Vitamin A:
52.1
IU
Vitamin C:
0.03
mg
Calcium:
12.04
mg
Iron:
0.2
mg