Mini Stir Fry Stuffed Calzones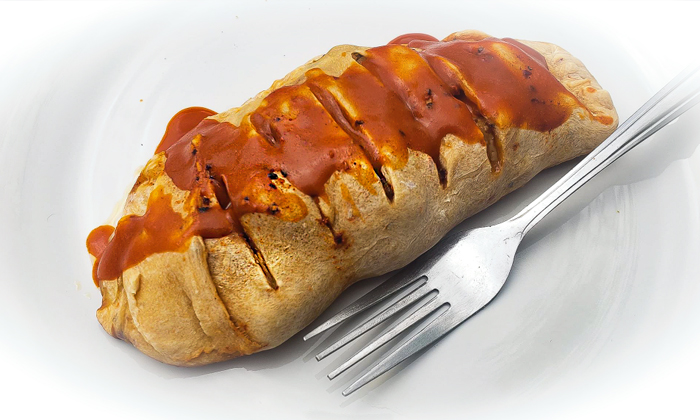 This is not your typical calzone, but they taste great, easy to make, and they're super customizable to be stuffed with whatever you're craving! This is the perfect way to make use of leftovers by making something brand new!
Ingredients:
Serves approximately 5-7 people
Dough:
4 Cups All Purpose Flour
1.5 Cups Water
2 Tbsp. Seasoning Salt
1 tsp Cayenne Pepper
1 tsp Garlic Powder
A pinch of crushed red pepper for texture
Stuffing: (stir fry portion)
2 Tbsp. Olive Oil
1/4 Cup Soy Sauce
1 Crown of Broccoli
1 Green Bell Pepper
1 Red Bell Pepper
1 Cup Cooked Brown Rice
1 Brick of Tofu
Drizzle:
4 Tbsp. Soy Sauce
1 tsp Crushed Red Pepper
2 tsp Garlic Powder
4 Medium-size Leaves Fresh Oregano, Finely Chopped
Directions:
Preheat oven to 450°F
In a mixer such as a KitchenAid with a bread hook attachment, combine dry ingredients for the dough (flour and spices). If you don't have a mixer, use a large bowl and a rubber spatula.
Gradually add water while mixing, until you reach a thick doughy consistency.
Roll out dough into a thin flat sheet, about an eighth of an inch thick, let sit while you prepare the veggies.
Cut the broccoli into small florets and peppers into thin slices, then in half lengthwise.
On medium heat uncovered, sauté broccoli and peppers in a large pan or wok with olive oil until soft but not mushy (we like ours a little well done and starting to brown, just turn to higher heat).
Add in cooked rice, tofu, and 1/4 cup soy sauce about halfway through cooking your veggies. Cook down until the liquid has reduced.
Cut circles out of your dough, approximately 4-5 inches in diameter. You can knead and roll the dough a few times to get the most out of it.
Fill each dough circle with some of your stir fry stuffing and fold over one side to make a half-circle shape. Be sure not to overfill each calzone, or they will rip and split.
Press the two sides of the dough together, folding up the bottom layer to make little pouches full of your stir fry.
Lightly grease a baking tray with olive oil.
Make 3 or 4 slits on the top of each calzone with a knife (careful not to tear and pull them), and place them on the baking tray. They can be close but not touching.
Add your "drizzle" generously on top of each calzone. We recommend doing this after all of your calzones are on the baking tray so that you can reduce waste or spills.
Bake for approximately 45 minutes, until the tops start to brown and the dough is not soft.
Enjoy with your favorite hot sauce!