Roasted Cauliflower & Red Bell Pepper Soup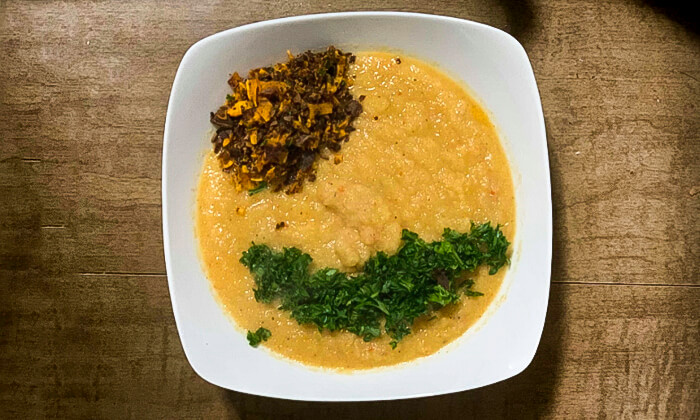 Looking for something nice and hearty for dinner? The search stops here. This roasted cauliflower soup is a powerhouse of flavor, with roasted red peppers, garlic, cayenne, and sweet potato – delicately blended into this amazing vegan soup.
Ingredients
1

Head

Cauliflower

1

White Onion

(peeled and chopped)

2

Cloves

Garlic

(peeled and chopped)

32

oz.

Vegetable Broth

(1 large carton)

1

Sweet Potato

2

Tbsp.

Kosher Salt

1

tsp.

Cayenne Pepper

1

tsp.

Smoked Paprika

(regular is fine too)

4

Tbsp.

Olive Oil

(approximately)

1

Tbsp.

Vegan Miso Paste

(be cautious, most miso includes fish ingredients)

1

Bunch

Fresh Parsley
Instructions
Preheat the oven to 425 degrees.
Roast the Cauliflower & Red Bell Pepper
While the oven preheats, break the cauliflower head into florets (be sure to remove the core from the head of cauliflower or cut around it). Cut the tops off the peppers and remove core and white membranes, cut into pieces (no particular size needed).

Line baking sheet with aluminum foil (you may need two baking sheets or you can do in batches).

Coat the cauliflower & peppers in olive oil and a teaspoon of salt, tossing with your hands for an even coat.

Place cauliflower & peppers in the oven and let roast until cauliflower gets golden brown and peppers take on some color, beginning to wrinkle. Do not let the cauliflower or peppers get burnt (roughly 15-25 minutes but keep an eye on it! Not all ovens are the same).

Set to the side once roasting is completed.
For the onions and garlic
In a large pot, place a tablespoon of olive oil and let it come to temperate over medium-high heat.

Add chopped onions and let them begin to cook down, stirring every so often (3 minutes).

Add in the garlic and let go for another 5 minutes.

Once onions are translucent and garlic is cooking down, add in your box of vegetable stock and bring liquid to a boil.

Once it is boiling add miso paste, stir to dissolve, and lower the temperature until it is just simmering.

Add roasted cauliflower and red peppers and let them sit in broth/onion mixture for 20 minutes (you can let it go for up to an hour).
Sweet Potato crumble
Wash and peel sweet potato.

On a mandolin, thinly slice the sweet potatoes until they are almost translucent (about the thickness of a normal chip) *This can also be done with a chef's knife but it is harder to get consistent slices*.

Fill a bowl with cold water and let the sweet potatoes soak for 20 minutes to remove the starch.

Then remove potato slices and dry them as well as the bowl.

Once dry, add potato slices back into the bowl drizzle enough olive oil to coat the potatoes and place in 425 degree oven for around 10 minutes (again check them frequently not all ovens are the same).

Remove from oven and salt immediately, let them cool. Once cooled cut chips into small fine pieces; Reserve for garnish.
Finishing the soup
Once soup has been simmering for at least 20 minutes, remove from heat and pour into a blender (you may have to do this in batches).

Blend on high until it is a smooth texture. At this point you want to season your soup with salt stirring to incorporate into the whole batch. Also add cayenne pepper and paprika, just be sure to add smaller amounts of salt and taste as you go.

Pour soup into bowl, on one side (or the center) sprinkle a good helping of the sweet potato crumble, and on the other place your finely chopped parsley.
Nutrition
Calories:
209.9
kcal
Carbohydrates:
22.1
g
Protein:
5
g
Fat:
12.8
g
Saturated Fat:
1.9
g
Polyunsaturated Fat:
1.5
g
Monounsaturated Fat:
8.8
g
Sodium:
2469.7
mg
Potassium:
645.4
mg
Fiber:
6
g
Sugar:
6.3
g
Vitamin A:
8271.7
IU
Vitamin C:
74.4
mg
Calcium:
68.8
mg
Iron:
2
mg