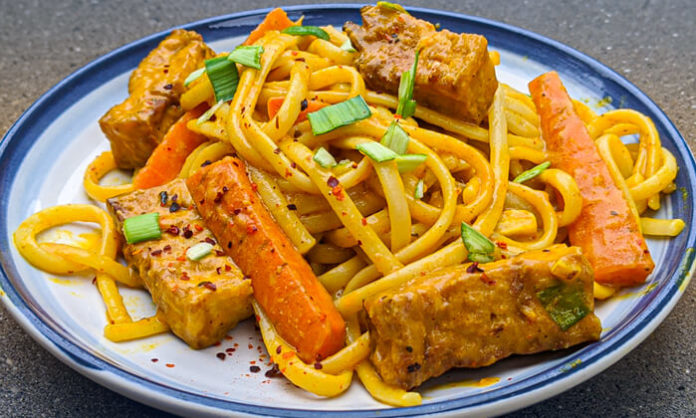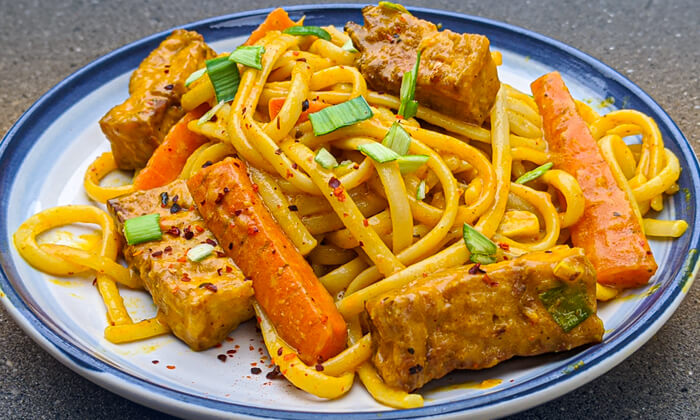 If you're anything like us, you love curry – which is probably why you're here. Getting the curry sauce down the way you like it can be challenging, but once you do it opens up so many options.
Curry is extremely versatile and can go great with just about any kind of veggie, starch, or protein you throw in it.
Servings: Approximately 3-4 People
Prep Time: 20 minutes
Cook Time: 35 minutes
Helpful Equipment:
Ingredients:
1 Block of Extra-firm Tofu
1/2 lb. Flat Rice Noodles or any Linguine-type noodle (half of most packages)
2 Large Carrots, sliced
1 White Onion, sliced
1 Stalk Leeks, chopped
1/2 Cup Raw Cashews, crushed
2 Cloves Garlic
1 Tbsp. Turmeric Powder
Curry Sauce
1 Tbsp. Coconut Butter
1/4 Cup Coconut Oil
1 Cup Unsweetened Coconut Milk
1/3 Cup Vegetable Broth
3 Tbsp. Red Curry Paste
2 tsp. Pepper Sa-Té Paste
2 tsp. Coriander
2 tsp. Dry Basil
1 tsp. Lime Juice (1 wedge)
1 tsp. Ginger, crushed
Directions:
For this recipe, you'll have a few different things going at once. Then, bring them all together for a delicious curry pasta.

Noodles
Boil a pot of water
Add a bit of salt and olive oil
Add in raw pasta and stir
Tofu
While your pasta is cooking, we can fry the tofu. We prefer to use an air fryer, but you are welcome to pan fry or prepare it in any other way you like.

Using a tofu press, press as much water out of the tofu as possible. The more water you can remove, the crispier they'll be! We usually let the tofu press sit for at least 10 minutes.
Cook your tofu however preferred and set aside. Check out our air fryer tofu recipe if you're not sure.
Veggies
Now you have the noodles and tofu cooking – time for the vegetables! This is where you really get to mix things up and add what you like best.

Cut carrots into thin strips (thicker is fine, but they'll take longer to cook).
Slice onions in strips.
Saute carrots and onions in a little coconut oil over medium-low heat, stirring often. Covering this can help soften up the carrots.
After the carrots begin to soften, add in garlic, cashews, and ⅔ of your leeks.
Stir in turmeric.
Add a little more coconut oil or reduce heat if they start to burn or stick.
Curry Sauce
In a large pan, melt coconut butter and coconut oil over medium heat.
Add in coconut milk, vegetable broth, and red curry paste – stir.
Stir in pepper Sa-Té paste, coriander, basil lime juice, and ginger.
Continue to heat, but be careful not to boil.
If you would like to thicken your curry, you can make a roux with some flour and oil and add gradually, continuing to heat but not boil. (a little goes a long way!)
Add It All Together!
Add your veggies, noodles, and cooked tofu into the sauce and reduce heat.
Continue to heat and stir for 3-5 minutes to fully work in the sauce.
Garnish with the remaining leeks and crushed red pepper if desired.
Enjoy!