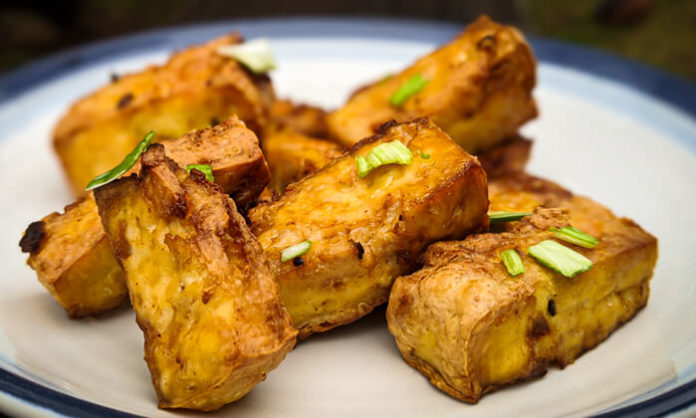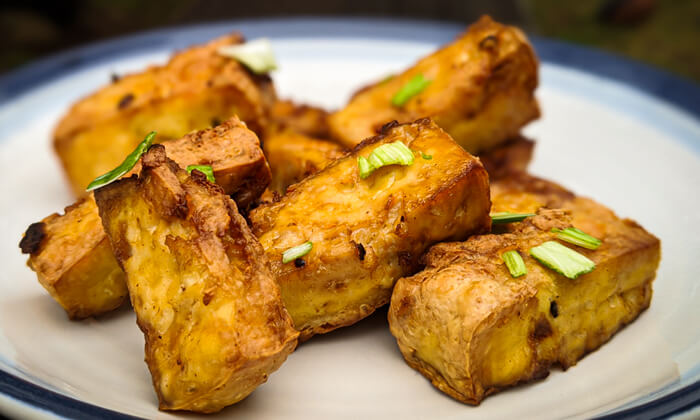 No more bland tofu! There's nothing worse than an excellent dish, sauce, or side that gets paired with tasteless mushy tofu.
If you have an air fryer, you probably love it. If you don't, you should definitely think about getting one. It's a game changer and an amazing way to reduce the use of oil without sacrificing fried foods!
This stuff is seriously good enough to eat by itself, but this method of preparing tofu goes great with a lot of dishes. We used this exact recipe for our garlic curry noodles.
Helpful Equipment:
Servings: approximately 2-3
Prep Time: 15 minutes
Cook Time: 15 minutes
Ingredients:
1 Block of Extra-firm Tofu (less firm will turn out less crispy)
2 Tbsp. Soy Sauce
1 Tbsp. Olive Oil
2 tsp. Sesame Oil
1 tsp. Ground Ginger
1 Clove of Garlic, minced fine
1 Dash Black Pepper
Directions
Press your tofu using a tofu press for 10 – 15 minutes.
Add soy sauce, olive oil, sesame oil, ginger, garlic, and black pepper in a mixing bowl and stir.
Dab off any excess water from your tofu.
Cut the tofu into short strips or chunks.
Toss the tofu chunks in your sauce gently, being sure not to break it up too much.
Place the tofu on air fryer trays, close but not touching.
Fry at 380 degrees for 15 minutes.
Halfway through, open and move around the tofu pieces. If using multiple trays, switch them to ensure an even cook.