Buffalo Cauliflower Wings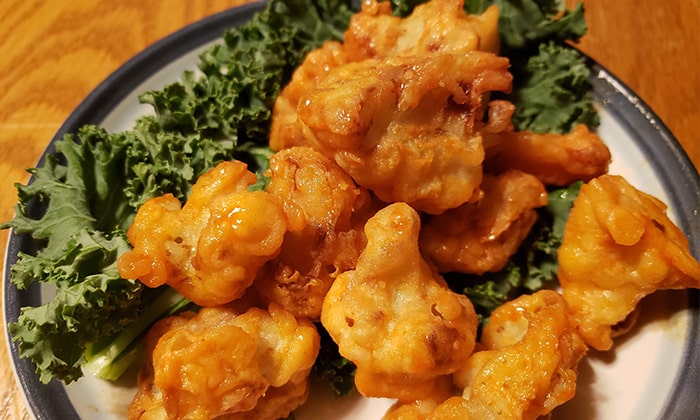 The magic of cauliflower – you can create so many different delicious plant-based foods, including vegan boneless hot wings! Perfect for a lunchtime snack or a party dish to pass.
Ingredients:
Serves Approximately 4 people
1 Head Cauliflower
3/4 Cup of Your Favorite Hot Sauce (We like Frank's Red Hot)
1 Tbsp. Plant-based Non-dairy Butter, melted
Batter
3/4 Cup Water
1/4 Cup Unsweetened Soy Milk
3/4 Cup All Purpose Flour
3 Tbsp. Corn Starch
1 1/2 Tbsp. Garlic Powder
1 Tbsp. Onion Powder
1 tsp. Cumin
1/2 tsp. Seasoned Salt
Directions:
Preheat the oven to 425°.
Cut cauliflower into small pieces. It helps to try and get as much of a stem as possible on each piece. If you cut them too small, you may end up with more crumbles and fewer "wings".
Make the Batter – combine water, soy milk, flour, corn starch, garlic powder, onion powder, cumin, and seasoned salt in a large bowl and whisk until smooth.
Line a large baking sheet with parchment paper or grease lightly.
Dip cauliflower pieces into the batter and allow to drip off excess before placing onto the baking sheet.
Bake for 12 minutes, take them out to rotate the pieces, and then bake for another 12 minutes. They should be a nice golden brown and start to crisp on top.
Mix together melted butter and hot sauce in a large bowl.
Add baked cauliflower to the hot sauce mixture and toss to cover all pieces.
Serve with vegan ranch or your favorite dipping sauce.