Guacamole Sweet Potato Toast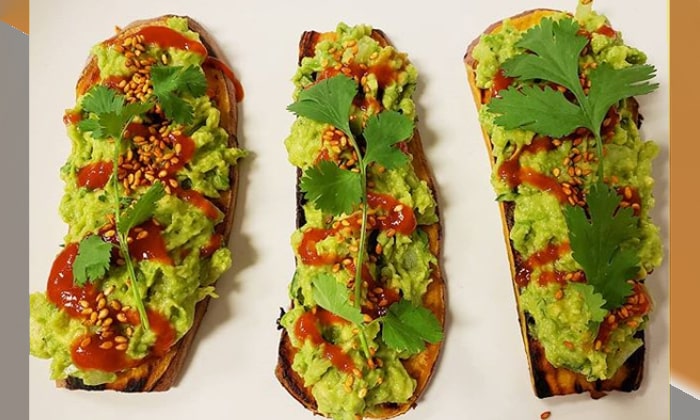 Sweet potato meets avocado… are you ready? This tornado of your favorite flavors is the perfect lunch time snack. Creamy guacamole atop crunchy sweet potato toasts, what more could you ask for?
Ingredients:
Serves Approximately 2 people
1 Large Sweet Potato
2 Avocados
1 Tomato, diced
5 Sprigs Fresh Cilantro
1 Lime, juiced
2 tsp. Salt
1/2 Small White Onion, chopped
2 Cloves Garlic, minced
Olive Oil
Sriracha Sauce (optional)
Directions:
Preheat oven to 350°
Peel sweet potatoes if you prefer, otherwise wash thoroughly.
Slice sweet potatoes long ways approximately 1/4 to 1/2 inch thick.
Brush lightly with olive oil and place sweet potato slices on a baking sheet.
Bake for 12-15 minutes, until golden brown on top.
While the sweet potato toasts are baking, let's make the guacamole.
Mash avocados in a large bowl.
Stir in tomato, onion, garlic, salt and 3 sprigs of cilantro
Once the toasts are done, spread guacamole on top and garnish with left over cilantro and sriracha.