Braised Artichoke with Lemon Garlic Aioli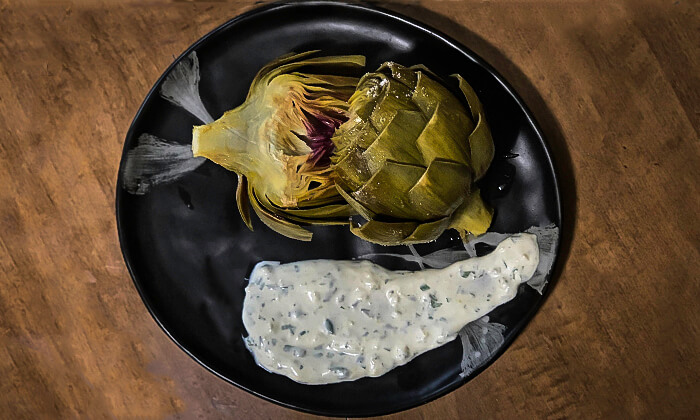 You just can't beat fresh artichokes. This braised artichoke recipe preserves and accents the natural flavor of the artichoke by complimenting it with flavors of wine, onion, rosemary, and garlic. Top it all off with a delicious garlic aioli mayo sauce and dig in!
Ingredients:
Serves approximately 2 people
Artichokes:
1 Artichoke (whole)
1 Box Vegetable Stock (32 oz)
2 Tbsp. White Wine Vinegar
1 Onion (yellow or white), chopped
2 Cloves of Garlic, chopped
1 Lemon, halved
1 Tbsp. Olive Oil
1/2 Cup White Wine
1 Sprig of Rosemary
2 Tbsp. Salt
Aioli:
1 Cup Vegan Mayonnaise
2 tsp. Salt
2 tsp. Pepper
1/4 Cup Cilantro, minced
1 Clove of Garlic, minced
1 Tbsp. Lemon Juice
1 Tbsp. Lemon Zest
Directions:
Prepare Lemon Garlic Aioli:

In mixing bowl, combine vegan mayonnaise, salt, pepper, cilantro, garlic, lemon juice and zest.
Stir to combine.
Taste, and if more salt is needed add it little at a time.
Prepare Artichoke:

Take Artichoke and snip thorns off ends of the outer leaves.
Remove small outer leaves near where the stem meets the body of the artichoke.
Using a vegetable peeler or paring knife, remove tough outer skin of the artichoke stem.
Cut the top 1" of artichoke of and proceed to cut artichoke in half, length wise.
Wash artichoke thoroughly.
In a pan with higher walls, add olive oil
Use artichoke halves face down to coat pan in oil and coat the faces of the artichokes as well.
Let brown over medium-high heat until the face of the artichoke has a nice browned (not black) color to it.
Remove from pan.
Reduce to medium heat and add in onions
Let roast for 3 mins, then add garlic and let roast until onions are translucent and garlic is aromatic for about another 3-5 minutes (Do not let the onions or garlic burn!).
Place artichokes back in pan, add lemon halves, rosemary, wine, and white wine vinegar.
Fill up to half way covering the artichoke with vegetable stock.
Bring heat back up to medium-high and cover.
Let liquid come to a boil and reduce heat to a simmer.
Let artichokes cook for 10 minutes, flip and then 10 more minutes.
Remove from liquid and let cool, serve with aioli.