Roasted Acorn Squash with Brown Sugar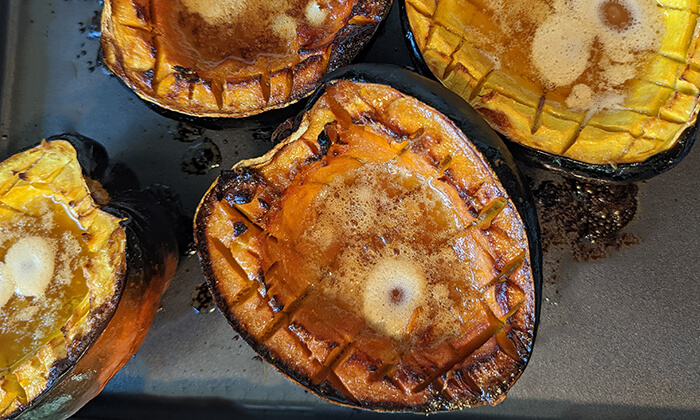 A classic autumn favorite done plant-based. Acorn squash is such a delicious sweet side to a good hearty vegan fall dinner. It even makes a pretty great late night snack.
The best part? This recipe couldn't get any simpler. Just three easy ingredients and an oven is all you need, but it also has a lot of versatility to spice things up and get creative!
Ingredients
1

Acorn Squash

1

Tbsp.

Plant-Based Butter

2

Tbsp.

Brown Sugar

1

Tbsp.

Pure Maple Syrup
Instructions
Preheat the oven to 400°F.

Microwave the squash whole for 1 minute and 30 seconds to make it easier to cut into.

Cut the squash in half vertically from the bottom to the stem. This is easiest if you break or cut the stem off short enough to set the squash down on the cutting board on its top.

Use a spoon to scoop out all of the seeds and insides of the squash. These are great for composting and growing your own squash plants with the seeds!

Use a knife to score a checkerboard pattern in each half. It should be about half inch squares and about a half inch deep. This will help the butter and sugar work its way into the squash as it bakes. Just be sure not to cut through the skin on the bottom or you'll have the good stuff leaking out!

Place the squash halves with the skin side down on a baking sheet.

Pour a little water in the baking sheet to cover the surface underneath the squash. This will help it from burning to the pan as it bakes.

If needed, soften the plant-based butter that you're using.

Spread the vegan butter evenly on both of your squash pieces, working it into the cuts.

Sprinkle brown sugar over the pieces on the inside of the cup as well as on the sides.

Drizzle the maple syrup evenly over the squash pieces as well.

Bake for at least 1 hour. We like them a little more well done and carmelized which takes more like an hour and a half.

Periodically, every half hour or so, open the oven and drizzle the juice within the squashes over the sides to re-coat the entire squash. This helps make sure the sides and top is just as delicious as the bottom of the cup.
Nutrition
Calories:
215.3
kcal
Carbohydrates:
42
g
Protein:
1.8
g
Fat:
6.2
g
Saturated Fat:
1.2
g
Polyunsaturated Fat:
1.9
g
Monounsaturated Fat:
2.9
g
Trans Fat:
1.1
g
Sodium:
59.6
mg
Potassium:
785.4
mg
Fiber:
3.2
g
Sugar:
18.8
g
Vitamin A:
790.9
IU
Vitamin C:
23.7
mg
Calcium:
91.7
mg
Iron:
1.6
mg