Vegan Thousand Island Dressing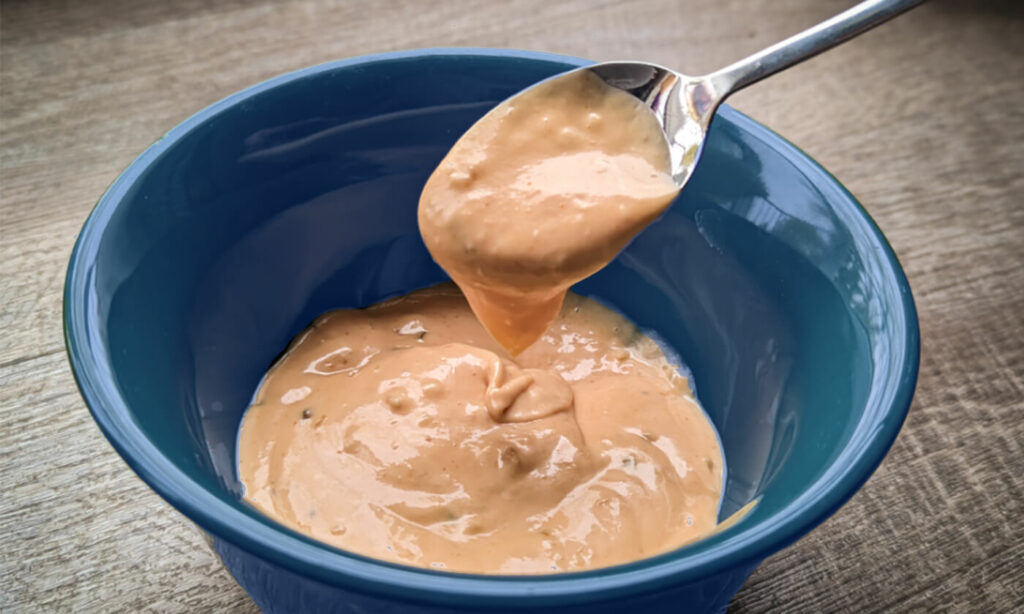 Vegan Thousand Island Dressing: a classic favorite reinvented to cater to those following a plant-based diet.
This recipe utilizes vegan-friendly ingredients to create a creamy, tangy, and slightly sweet dressing that is perfect for enhancing the taste of your salads, sandwiches, and other dishes. Easy to prepare and incredibly versatile, this vegan Thousand Island dressing will become an essential condiment in your kitchen.
Experience the delicious taste of traditional Thousand Island dressing without any animal-derived ingredients, and elevate your meals with this scrumptious, vegan-friendly option.
Ingredients
½

Cup

Vegan Mayonnaise

2

Tbsp.

Ketchup

1

Tbsp.

Pickle Relish

(we prefer dill, but you can use sweet relish if desired)

1

tsp.

White Vinegar

1

tsp.

Sugar

⅓

tsp.

Onion Powder

¼

tsp.

Sea Salt

¼

tsp.

Black Pepper
Instructions
In a mixing bowl, combine the vegan mayonnaise, ketchup, pickle relish, white vinegar, and sugar. Mix well using a whisk or fork.

Add the onion powder and stir until evenly distributed throughout the dressing.

Season with salt and pepper to taste, adjusting according to your preferences.

Serve immediately or store in an airtight container in the refrigerator for up to a week. Give it a good stir before using it again. Enjoy your Vegan Thousand Island Dressing on salads, sandwiches, or other dishes!
Notes & Tips
The main difference between Thousand Island dressing and Russian dressing is that Thousand Island is a bit sweeter and does not contain horseradish.
Try this dressing on a tempeh Ruben sandwich!
Nutrition
Calories:
132
kcal
Carbohydrates:
4.4
g
Protein:
0.1
g
Fat:
12
g
Saturated Fat:
1.3
g
Polyunsaturated Fat:
0.01
g
Monounsaturated Fat:
0.01
g
Sodium:
258.1
mg
Potassium:
21.5
mg
Fiber:
0.1
g
Sugar:
1.9
g
Vitamin A:
30.5
IU
Vitamin C:
0.3
mg
Calcium:
2.9
mg
Iron:
0.1
mg