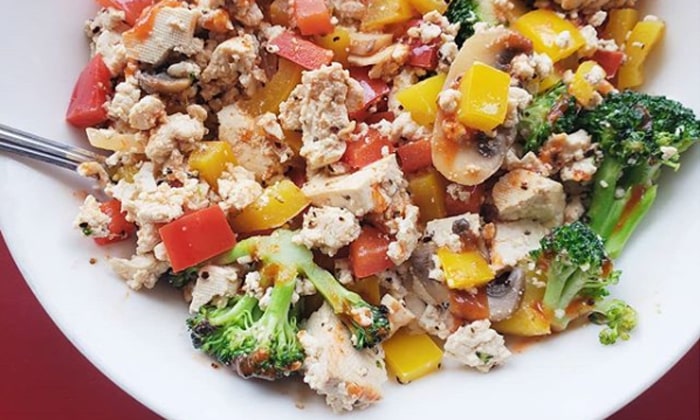 Start your day off right with this tofu scramble for breakfast. It's colorful, protein packed, and the perfect thing to get you motivated for the day.
Breakfast scrambles are the best way to get rid of left over veggies from a party, which is what we did when we made the one pictured here!
Ingredients:
Serves Approximately 3-4 people
1 Package Extra Firm Tofu (14 oz.)
1 Red Bell Pepper, diced
1 Yellow Bell Pepper, diced
1 Head Broccoli
1 Small White Onion, chopped
1 Package White Button Mushrooms (4 oz.), sliced
2 tsp. Black Pepper
2 tsp. Seasoned Salt
Your favorite hot sauce or salsa (We like Valentina for this)
Directions:
Cut up all of your vegetables and mushrooms. We like to include some of the broccoli stem pieces as well. (If you don't, make sure you compost!)
In a large saucepan, cook peppers, broccoli, onion, and mushrooms for approximately 5 minutes, covered. You shouldn't need to add any water or oil. These will give off quite a bit of water as they cook.
Drain excess water from the tofu.
Remove the cover and add in tofu, pepper, and seasoned salt.
Chop up tofu with a spatula and mix in.
Cook for an additional 7-10 minutes, until much of the water has evaporated and the vegetables are soft (but not mushy).
Drizzle on your hot sauce and have at it!