Dairy-free No Bake Vegan Cookies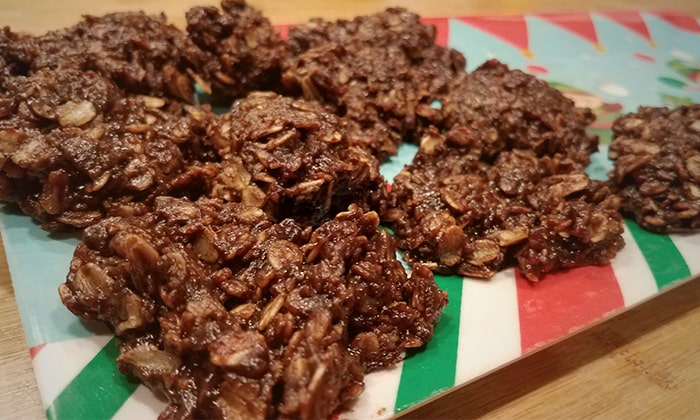 Aim to impress at parties with these delicious vegan no-bake chocolate oatmeal cookies. The rich taste of chocolate and peanut butter will have your friends and family asking for more!
Ingredients:
Yields approximately 15-20 cookies
4 Tbsp. Vegan Non-dairy Butter Substitute

4 Tbsp. Coconut Oil
1 1/2 Cups Sugar
1/2 Cup Almond Milk
1/2 Cup Cocoa Powder
1/2 Cup Peanut Butter
1 tsp. Vanilla Extract
3 1/2 Cups Oats
Directions:
In a medium saucepan, mix together butter substitute, coconut oil, sugar, almond milk, and cocoa powder on medium heat.
Bring this mixture to a boil and stir for 2 minutes.
Stir in peanut butter and vanilla.
Continuously stirring, add in oats gradually.
Remove from heat
Scoop out cookies onto a non-stick baking sheet to your size preference.
(Wax paper also works well, but there's no need to waste it right?)
Let cool… or be impatient like us and dig in!