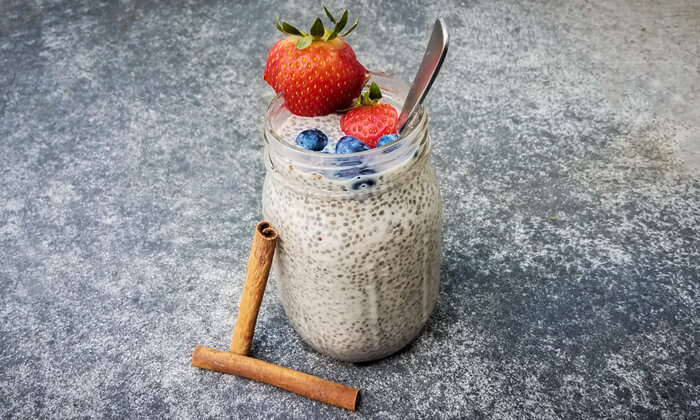 Chia pudding is an on-the-go breakfast kind of person's dream. It's super easy to make. Just a few ingredients, give it a shake, and let it sit for a few hours.
The health benefits of chia seeds never tasted so good. This is a great addition for vegan meal preppers or a sweet evening treat.
Ingredients:
Serves Approximately 4 People
2 Cups Plant-Based Milk (we prefer oat or soy milk)
1/2 Cup Chia Seeds
1 Tbsp. Maple Syrup or another sweetener
1 tsp. Cinnamon
Directions:
Combine chia seeds, milk, cinnamon, and sweetener in a bowl or jar. We like to use a mason jar so it's easy to seal it and shake it up! Mason jars can really come in handy in a vegan kitchen – get yours here!
Push down any seeds stuck to the sides of the container.
Refrigerate overnight, or for at least 2 hours.
Feel free to add more milk or seeds to adjust the consistency after the seeds hydrate.
Top with your favorite fruits or berries.
Note that as the seeds hydrate, it will slightly increase in volume. Don't fill your container to the brim! If you do, you may open your fridge in the morning to a chia pudding mess!