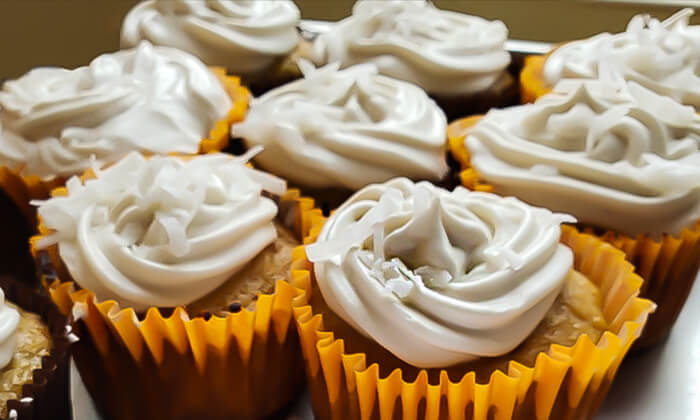 Do you like piña coladas and getting caught in the… kitchen making cupcakes? Send yourself on a tropical flavor vacation with these delicious cupcakes! Fresh pineapple, coconut flakes, and best of all – dairy free and completely vegan.
Ingredients:
Makes 12 Cupcakes
Cakes:
1 Cup Flour
2/3 Cup Sugar
1 tsp. Baking Soda
1/4 tsp. Salt
1/3 Cup Pineapple (about half of a 20oz can), crushed with liquid
1/4 Cup Plain Applesauce
1/2 tsp. Vanilla Extract
Filling:
3/4 Cup Pineapple Chunks, chopped small
1 Tbsp. Brown Sugar, packed
Frosting:
1 Can (13.5oz) Full Fat Coconut Milk, refrigerated
2 Tbsp. Powdered Sugar
1/3 Cup Coconut Flakes
Directions:
Baking the Cupcakes:
Preheat oven to 375°F
Line a cupcake tray with liners (consider buying some reusable ones!)
In a large mixing bowl, mix the flour, sugar, baking soda, and salt
Stir in crushed pineapple, applesauce, and vanilla extract until you form a smooth consistent batter.
Evenly pour batter into your cupcake liners.
Bake approximately 6 minutes, until the cupcakes have some structure and don't have a liquid consistency.
With the handle of a spatula or spoon, push down the middle of each cupcake, pushing the cake against the sides.
Mix pineapple chunks for filling with brown sugar in a small bowl.
Place a small spoonful of pineapple filling in each cupcake and work the cake up and over the top as much as possible. It's okay if it doesn't completely cover the filling (your frosting will!)
Place cupcakes back in the oven and bake for another 8-10 minutes, until the tops start to darken. Test with a toothpick on the cake portion to make sure they're done.
Set cupcakes aside and allow them to cool.
Creamy Coconut Frosting:
Make sure the coconut milk is cooled. Remove the solidified portion from the can and place it in a mixing bowl. Don't waste the leftover coconut water though, it's tasty!
Whisk the coconut milk by hand or use a powered mixer until it increases in volume and becomes more fluffy.
Continuing to whisk, gradually add in powdered sugar. Continue to mix for 2-3 minutes.
Tie it All Together:
Using a pipe or simply a spoon, top each cupcake with your whipped coconut cream frosting.
Sprinkle coconut flakes on the top and dig in!