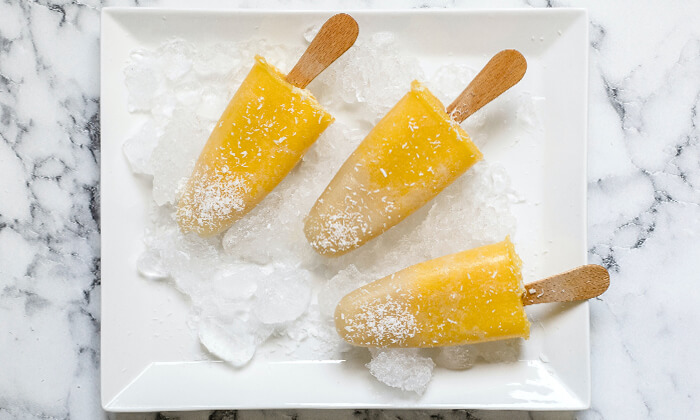 These super simple popsicles have just a few easy ingredients and are naturally sweet. These are great for all ages – kids, adults – anyone who wants a cold vegan sweet treat without any artificial sweeteners.

Try these out with a reusable popsicle mold to avoid creating waste and so you always have them ready to go!
Helpful Equipment
???? Servings: 6 Popsicles
???? Prep Time: 15 Minutes
???? Cook Time: 6 Hours
⏲ Total Time: 6 Hours 15 Minutes
Ingredients
2 mangos, chunked (about 16 oz. if using frozen)
1 lime, juiced (about 2 Tbsp.)
1 cup coconut milk, unsweetened
1 ½ Tbsp. maple syrup

Directions
Blend
Add mango and lime juice in a blender, puree until smooth.
Mix the coconut milk and maple syrup in a separate measuring glass.
Pour & Prep
Either mix or layer the two mixtures within the popsicle mold to create your popsicles. Mixing them will give the whole popsicle a creamy mango flavor, while layering them can give bursts of mango and coconut.
Make sure you leave enough room to insert the sticks without them overflowing.
Gently shake or tap the popsicle molds after pouring to remove any air bubbles.
Insert the sticks and cover of the mold.
Freeze
Place your popsicles in the freezer.
Leave overnight or for at least 6 hours.
Enjoy! Run lukewarm water over the outside of the popsicle mold to loosen them if they don't come out easily.