Black Bean, Bell Pepper, and Corn Chili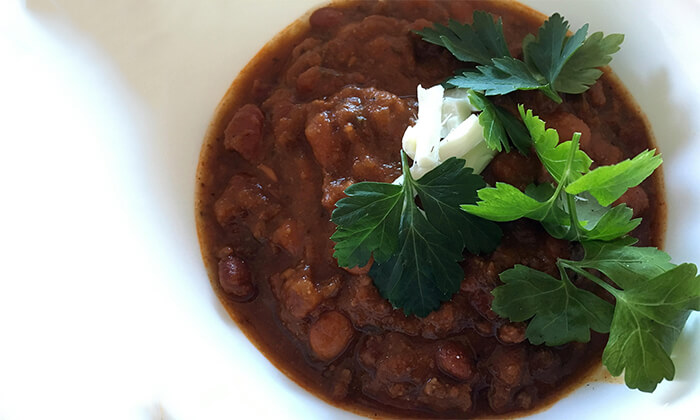 This chili is packed full of flavor and wonderful ingredients. Experience the heartiness of the beans, the spiced and smoked flavor of the spices, with a touch of sweetness from the corn.

Chili is a wonderful dish because it is so flexible and customizable. Don't like one of these ingredients or have an idea of how to change it up and make it yours? Awesome!

We love to make a big batch of this chili and freeze it in smaller containers to save for later or give to friends and family!
Helpful Equipment
???? Servings: Approx.12 cups
???? Prep Time: 30 Minutes
???? Cook Time: 45 Minutes
⏲ Total Time: 1 Hour 15 Minutes
Ingredients
4 to 5 large tomatoes, diced
2 large red bell peppers, diced
1 cup red onion, chopped
5 cloves of garlic, chopped
1 Tbsp. Mexican oregano
2 tsp. ground cumin
1 yellow bell pepper, diced
2 cans black beans (15 oz), rinsed
4 celery stalks, chunks
1 cup corn (frozen or fresh works best)
1 ½ cups kale leaves, chopped
3 Tbsp. fresh cilantro, chopped
2 cups water
1 lemon, juiced (2 Tbsp.)
2 tsp. smoked paprika
¼ tsp. chili powder
½ tsp. sea salt
Directions
Wash, cut, and prep your ingredients. You will have some time throughout the prep of this recipe, however we find recipes like this best to cut and prep ahead, especially since so many of the ingredients that require prep are used initially.
In a Dutch oven, cook the following over medium heat for 20 minutes. Stir frequently.

Tomatoes
Red bell peppers
Red onion
Garlic
Oregano
Cumin

Remove from the burner and cool for 15 minutes.
Pour the contents of the Dutch oven into a blender and blend until it is smooth. You may need to do several batches.
Pour your blended mix back into the pot.
Add all of the remaining ingredients into the pot on high heat and bring to a boil.
Reduce to low heat and simmer to thicken. This should take approximately 10 minutes.
Top with more fresh cilantro if that's your thing and enjoy!