Easy Homemade Oat Milk Recipe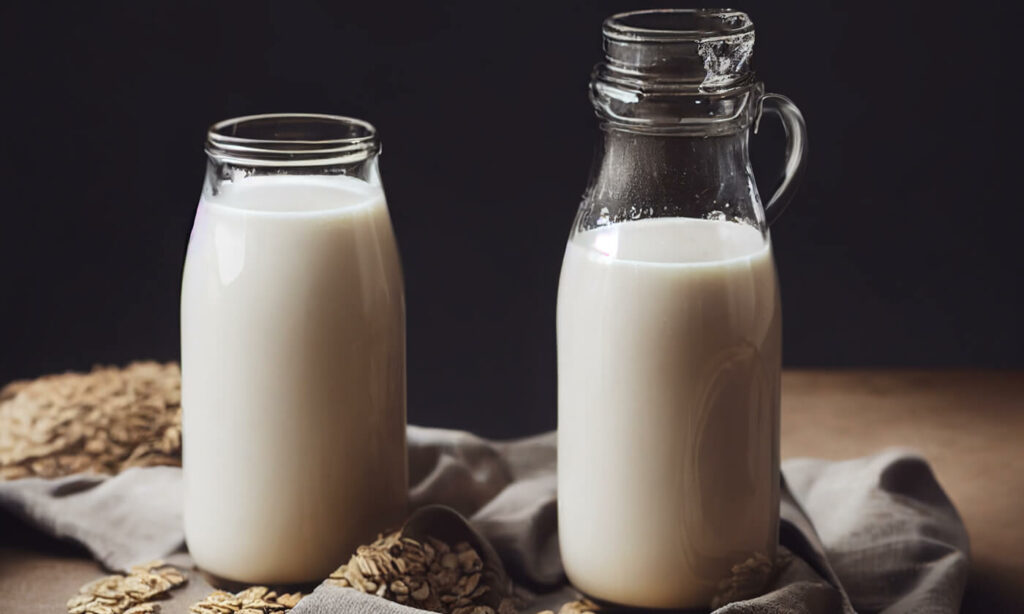 Are you ready to make the switch to a sustainable, healthy, and affordable plant-based milk alternative? No dairy and no more buying expensive milks from the store. Making your own oat milk is easy!
Our Homemade Oat Milk recipe is perfect for those seeking a vegan-friendly option without compromising on taste or quality. Not only is oat milk a great substitute for dairy milk, but it's also packed with essential nutrients like fiber, protein, and vitamins.
This recipe is incredibly simple, requiring only a few ingredients and some basic kitchen equipment. With a smooth, creamy texture and subtle sweetness, this oat milk is perfect for your morning coffee, cereal, or smoothie.
Plus, it's environmentally friendly, as oats require less water to grow than almonds or dairy milk production. So, let's jump into making this delicious, plant-based oat milk!
Ingredients
1

Cup

Rolled Oats

4

Cups

Filtered Water

2

Tbsp.

Maple Syrup

1

tsp.

Vanilla Extract

1

Pinch

Salt
Instructions
Begin by rinsing the rolled oats under cold water for 30 seconds to remove any excess starch. This step will help create a smoother texture and prevent the oat milk from becoming slimy.

In a high-speed blender, combine the rinsed oats, filtered water, maple syrup (if using), vanilla extract (if using), and a pinch of salt.

Blend the mixture on high for 30-45 seconds. Avoid over-blending, as this can cause the oat milk to become slimy.

Place a nut milk bag or fine mesh strainer over a large bowl or pitcher. Pour the blended mixture through the bag or strainer to separate the oat pulp from the liquid.

Gently squeeze the nut milk bag or press the mixture through the strainer to extract as much liquid as possible. Discard the pulp or save it for another recipe, such as oatmeal cookies or granola.

Pour the oat milk into airtight containers or jars and refrigerate for up to 5 days. Shake well before each use, as the oat milk may separate naturally over time. Enjoy your homemade, plant-based oat milk!
Notes & Tips
There are also a few really great products out there specifically made to create rich and creamy DIY plant milks without the hassle of straining and pouring.
If you are planning to make this part of your regular routine and don't enjoy the creation process as some do, you could consider investing in a product that can make things more efficient.
Nutrition
Calories:
100.3
kcal
Carbohydrates:
18.8
g
Protein:
2.7
g
Fat:
1.3
g
Saturated Fat:
0.2
g
Polyunsaturated Fat:
0.5
g
Monounsaturated Fat:
0.4
g
Sodium:
23.5
mg
Potassium:
91.8
mg
Fiber:
2
g
Sugar:
4.8
g
Calcium:
25.8
mg
Iron:
0.9
mg