General Tso's Cauliflower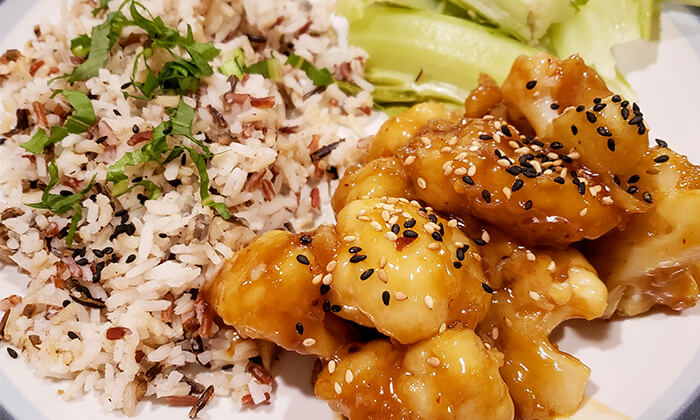 Get that sweet, sour, and savory taste of General Tso's that we all know and love, but save the chicken! Fried cauliflower is amazing and so versatile. It is a great chicken substitute in recipes like this or buffalo wings.
We love to make this with wild rice and a steamed vegetable. It's the perfect dinner to make large batches using a wok. (Don't have a wok? Here's a great one!)
Ingredients:
Serves approximately 4-6 people
Fried Cauliflower:
1 Head Cauliflower
1 Cup Flour
3/4 Cup Water
3 Tbsp. Cornstarch
2 tsp. Black Pepper
1 tsp. Baking Powder
1 tsp. Seasoned Salt
Vegan General Tso's Sauce:
1/4 Cup Water
1 1/2 Tbsp. Mushroom Soup Base
1/4 Cup Soy Sauce
2 Tbsp. Rice Vinegar
2 Tbsp. Sherry Wine
3 Tbsp. Brown Sugar
1 1/2 Tbsp. Cornstarch
2 tsp. Lime Juice
2 tsp. Sesame Chili Oil
2 tsp. Ginger, grated
2 Cloves Garlic, minced
3 Dried Ancho Chiles (can sub for other dried chiles, use arbol chiles to turn up the heat!)
Other Ingredients:
2 Tbsp. Roasted Black Sesame Seeds
3 Cups Canola Oil (for frying in saucepan)
Directions:
Fry the Cauliflower:
Cut cauliflower into bite-size florets.
Heat canola oil in a medium saucepan over medium-high heat. You may need additional oil if you're using a larger pan. You want the cauliflower bites to be mostly covered by the oil.
In a large mixing bowl, combine all ingredients for the fried cauliflower batter.
Toss cauliflower bites in the batter and place gently into the hot oil. You'll likely have to cook several batches of cauliflower rather than putting it all in the oil at once – it's easier to manage this way to get more consistently cooked pieces.
Fry for about 4 minutes, until golden brown. Flip any cauliflower florets halfway through to cook the entire outside of each piece.
Remove cauliflower from oil and place on a baking tray lined with paper towels to absorb excess oil.
Prepare the Sauce:
In a medium saucepan, bowl combine water and mushroom base and whisk over low heat until dissolved.
Add in remaining ingredients for the sauce except for garlic and ancho chiles.
Continue to stir until the sauce thickens, but do not allow to boil. If your sauce is not thickening to your liking, try making a small amount of roux by mixing oil and flour. Gradually add in small amounts until the sauce is thickened.
Add in garlic and chiles, cook for an additional two minutes on low heat.
Mix it Up!
In a large mixing bowl, pour your sauce over the fried cauliflower bites.
Toss gently until all pieces are coated.
Garnish with roasted sesame seeds.