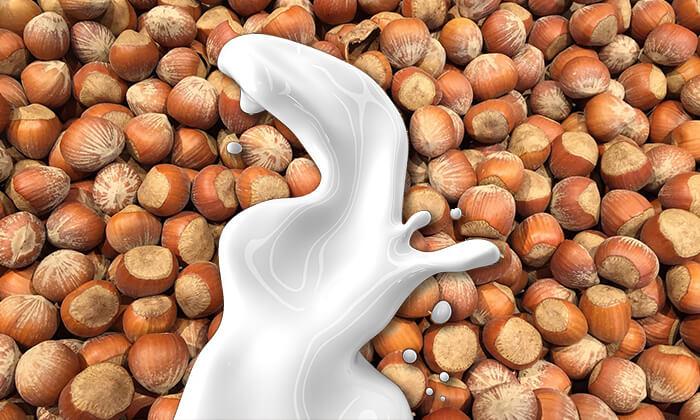 Hazelnuts have that unique comforting flavor that we all know and love. Did you know you can make hazelnut milk the same as any other nut like almond milk or cashew milk? 
Adjust the ratios of hazelnuts to water if you would like a more creamy milk. 1:4 is a common ratio, but please feel free to try things out and figure out what you like best.
Depending on what you're planning to use the nut milk for, such as baking or breakfasts like overnight oats, some people choose to skip straining to use more of the pulp within other recipes. If you're planning on drinking the milk as is, you'll likely want to strain it thoroughly.
Another great option with this recipe is to make hazelnut milk ice cubes to use in all sorts of other recipes!
Ingredients
1

Cup

Hazelnuts

(unsalted)

4

Cups

Water

1

Pinch

Salt

2

Medjool Dates

Feel free to substitute the sweetener to your liking. Maple syrup and raw cane sugar are great options as well.
Instructions
Soak
Soak the hazelnuts in water overnight (for at least 8 hours)

Rinse the soaked hazelnuts.
Blend
Add all ingredients to a blender and process thoroughly until the mixture is smooth and frothy. This will typically take about 2 – 3 minutes.
Strain
Place a nut milk bag or cheesecloth over a large bowl.

Pour the unstrained blended hazelnut mixture over the cloth.

Allow for as much of the liquid to strain through as possible.

Pick up the bag or cloth from the edges so that the purée does not spill and squeeze the bag to get as much liquid into the bowl as you can.
Store & Enjoy
Refrigerate the hazelnut milk in an airtight jar or bottle. This should keep well for around 4 days.

Consider reducing waste and saving the pulp as well for use in smoothies, granola, or other experimental recipes!
Notes & Tips
Alternative Product
There are also a few really great products out there specifically made to create rich and creamy DIY nut milks without the hassle of straining and pouring.
If you are planning to make this part of your regular routine and don't enjoy the creation process as some do, you could consider investing in a product that can make things more efficient.
Nutrition
Calories:
221.6
kcal
Carbohydrates:
14
g
Protein:
4.7
g
Fat:
18.3
g
Saturated Fat:
1.3
g
Polyunsaturated Fat:
2.4
g
Monounsaturated Fat:
13.7
g
Sodium:
21.6
mg
Potassium:
287.5
mg
Fiber:
3.7
g
Sugar:
9.3
g
Vitamin A:
23.9
IU
Vitamin C:
1.9
mg
Calcium:
49
mg
Iron:
1.5
mg